Face Time: Nicholas Watkins
Healthcare research was front and center throughout Nicholas Watkins' undergraduate and PhD studies at the University of Illinois at Urbana-Champaign, but it was during his Psychology 101 class that he was first exposed to environmental psychology and Roger Ulrich's pioneering study on how the built environment could influence healthcare outcomes. Watkins says the realization of how the field could advance fundamental physical and psychological needs gave architecture "a higher purpose." After graduation, he continued to sharpen his skills at several firms, including Cannon Design and HOK, before joining Gensler in 2017. These days, he's also "testing" new running strategies when taking a break from professional research.
What drew you to a career in research?
The University of Illinois at Urbana-Champaign is a large pool to wade around in and cobble together a lifelong passion before you even realize that's what's happening. Several faculty members from the anthropology, architecture, educational psychology, landscape architecture, natural resources, and psychology departments adopted me, nurtured my cross-disciplinary interests, and believed in me. They are my heroes.
What was your first professional health design research project? 
Design research of cancer centers and translational research facilities while at Cannon Design. By far, the clients and study participants were the most memorable aspects of the projects. To see how the research empowered them and their decisions gave me goosebumps and a very satisfying feeling.
What design lesson from that project do you still carry with you today?
Beware of "evidence-washing." Society, college, the media, project obligations, and other forces shape the expectation that design research reveals "big-T" truths that can be applied to every project and reinforce what designers and clients already know. The irony is that design solutions then risk being applied to a project without performing research on a specific project's needs and opportunities.
Three healthcare projects you've worked on in the last year and your role
1 A nationwide study of the outpatient experience, principal investigator.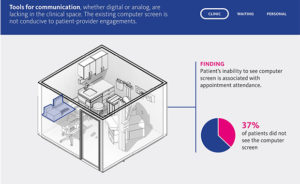 2 Mt. Sinai PeakHealth Clinic of the Future, principal investigator.
3 Sharp HealthCare research-informed master planning, principal investigator.
What do you like best about healthcare design research?
Research findings that inform simple and successful design solutions that foster quality, empathy, altruism, or well-being without anyone's conscious awareness. Standardized clinics and units are always fun ones. You can see how visibility of colleagues and patients improves interactions while cutting back on unnecessary searches and workarounds.
What challenges about your work keep you up at night?
My mind races with interesting ideas, research questions, statistical models, poignant statements from interviews, and mixed methods research. I have to read boring fiction books with long sentences so I can fall asleep.
Three unexpected items on your desk
1 a colorful ceramic rooster figurine named "Cecil."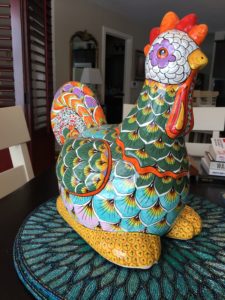 2 a sleeping British Blue kitten named "Tippi."
3 a chipped coffee mug covered with colorful images of English birds (a gift to my father that I'll never part with)
Outside the office, you'll likely find me….
Writing poetry or fiction, reading, eating lunch near the river, or exercising. The current reads are pretty diverse, from "Moby Dick" to "Cognitive Dissonance: Second Edition," and lunch invariably involves chocolate-covered English Toffee from a nearby candy store.
What's a new hobby you've picked up during the coronavirus pandemic? 
I now spend part of my runs going backwards. I'm told that this is supposed to help with my balance.  It's also fun to see people try to understand what I'm doing.
Dog or cat?
I love both and would like a guinea pig, hermit crab, and cockatiel mixed in there, too.
Coffee or tea?
Coffee. If I need a real kick, then Harney & Sons Hot Cinnamon Spice.
Morning person or night owl?
I'm not fully human until I have had coffee in the morning.
Fiction or nonfiction?
I gave up trying to make the distinction 20 years ago.
Window or aisle seat? 
Definitely window. It's fascinating and calming to see how quiet and beautiful the world is from a great height. I never tire of it.
How did you make your first dollar?
I picked quarts of strawberries for 5 cents each.
Your go-to karaoke song?
"Momentum" by Aimee Mann (mercy on the poor soul who has to listen).
First album you ever bought.
Sheryl Crow—"Tuesday Night Music Club."
Cocktail of choice? 
Jungle Bird.
Your hidden talent?
Backward jump roping.
If you weren't a researcher you would be …
I love what I do. I can't think of anything else.
You have an irrational fear of … 
Dolls. Why would anyone like a miniature human or child that just stares at things? It's not natural.
Last game you played?
My kitten likes to play fetch and I always find that this makes me happy.   
Favorite …
Quote "Today could be the day I'm mistaken for somebody important."—Hyacinth from "Keeping Up Appearances."
Movie character Whomever Toni Collette plays in any movie.
Weekend activity Spending time with my nieces and nephew.
Band/musical artist The Killers.
Color Red.
App/website ScienceDaily.
Snack when you travel Black licorice.
Ice cream flavor Cherry Garcia or Rum Raisin.
Sport Soccer.
Team St. Louis Cardinals.
Hobby Writing.